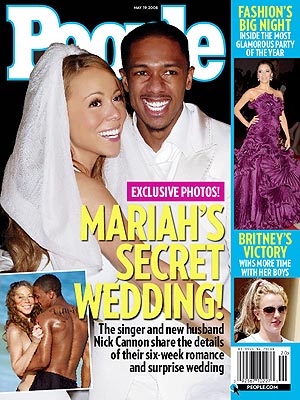 There is nan not a reason I should be blogging right now. I'm literally in the THICK of finals week. But alas, I felt compelled to tell my reader that I have made a decision: I support Mariah and Nick. If you know me at all you know I go back with Mariah Carey and her music for as long as I can remember. We're talking EARLY elementary. We go back like car seats. More importantly the world is in dire need of little Mariahs to keep that talent going forever... I didn't want to blog about this insane rumor before, I got all sorts of texts from true friends who know my love of MC and I told them all I didn't believe it. I follow her music not her personal life but STILL. Nick Cannon? Oh well, he has a little biz going for him and, corny as he is, he's okay in my book for now. Who knew he was 27 though?! Oh well. Get it girl.
Also a few quick reflections on the Kanye concert in "Houston" (read: Cynthia Woods Mitchell Pavilion in the Woodlands does not equal Houston by any stretch) last weekend:
Chris Brown we know you were on stage. WHY would you not do the Umbrella remix? Reason #2043 why I don't like big, planned out concerts

Kanye West we love you for acting a fool. Those blue screens were annoying us too. Your professionalism style is a bit unorthodox but hey, everybody has their standards. More power to your ridiculous, brightest-star-in-the-universe-self.

Rihanna, I know you call yourself being a fashion trendsetter but please give your motorcycle hat back to the Village People. I can't find any pictures online so that must have been a Houston exclusive. Nice. She had a nice set though.

Shortly after the concert it was announced Lupe's album just went Gold. So why in the sam hell was Lupe on first like some Austin hometown SXSW band?! All 5 people that had made it through I-45 traffic and parking and who weren't off buying their $10 Kayne shutter shades loved it though. No props, just a little fog towards the end of the act, no announcement, no nothing. Who's in charge here?

NERD...I'll rock with you. Not enough to run through the arena and dive on stage and proceed to take multiple awkward photographs though....

"The Lawn" + that tiny bridge back to the parking lots = fire hazards. There is nothing safe about packing people in until there is no movement possible. $40 is too much to pay for no breathing room. Luckily I had a fantastic group of guys with me who (1) kept the mood light and had me cracking up and (2) could have potentially saved me in the event of a stampede.
[Thursday Edit: now if that ain't some foreshadowing...]
Okay.... seriously, back to studying. Catch y'all on the flip side of this International Finance final!